Hello, hello, hello!
Today's post will be kinda brief because this post will be about my giveaway.
Over the weekend I will post my review about my current favorite eyelash curler, so be on the look out for that, please!
January 15th marks my 1 year! Can't believe how fast the year goes.
PLEASE READ THIS! :)
My giveaway may not be that fancy to some of you but I did put a lot of time/work into it. Literally. My work is in this giveaway (cause my job paid for all of this bahaha). I've been collecting stuff to include in my giveaway for a while now! So... I hope everyone can enjoy it :)
Now there will be TWO winners. The first winner will be drawn at random, the second winner will be the person who most frequently comments my blog :)
Without further ado... the prizes!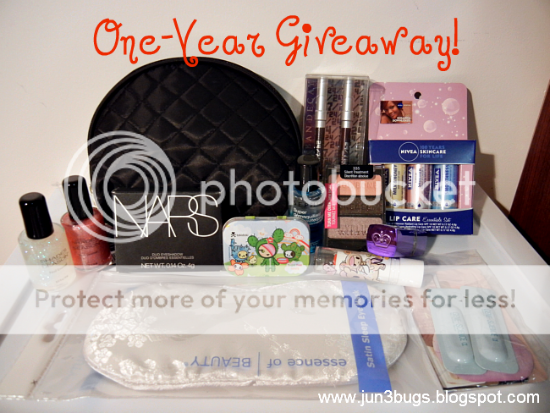 One 1st Place winner will receive
:
1) One quilted cosmetic bag (really cute, the zipper goes all the way down as well).
2) One NARS eyeshadow duo in Island Fever (my review
here
).
3) One Urban Decay/24/7 Glide-On Eye Pencil Duo - Oil Slick & Rockstar (everyone's favorite!)
4) One Tokidoki Sugar Free Mints (These are really yummy!)
5) One Tokidoki Gelato Lip Balm Stain in Donutella (TOTALLY LOVE. Will post a review about this soon... I hope).
6) One package of Nivea lip care! Includes 3 kinds: Milk and Honey, Shimmer, Smoothness (Need I tell people how good these things are?)
7) One Rimmel Moisture Shimmer lipstick in Coral Shimmer (I really wanna try this one day, when I AM a lipstick person haha)
8) Two Shades of Season Nail Polishes.
9) One Wet n Wild Color Icon Trio in Silent Treatment (LOVE!)
10) One Essence of Beauty eye-mask in WHITE (Every girl needs one, come on).
11) One sample sized Sephora eye makeup remover.
12) A bag of my "perfect skin" samples. Includes 2-3 of my favorite BB cream samples and 2-3 of my favorite skin revitalizing samples. All are from Korea. Brands include Missha and Tony Moly and more.
One 2nd Place Winner will receive
:
1) One Essence of Beauty eye-mask in lavender! (Yay!)
2) One sample sized Philosophy "Miracle" moisturizer. (Classic)
3) One Bath and Body Works PocketBac hand sanitizer in "Fresh Market Apple" (NOM!)
4) One Wet n Wild Color Icon Trio in Knock on Wood (lovelovelove)
5) Two Wet n Wild lipsticks 901B, 911D (Never tried these before!)
6) Two Wet n Wild nail polishes in pink and red.
P.S.: Depending on how things go on my end, there probably will be runner up prizes I will mention when I announce the winners.
Now here are the rules...
A) Open to people all over the world.
B) Must be a public follower. Hopefully you won't unfollow after this is over :(
C) Must be over 18 years old.
D) Must include a comment on THIS post with location & how you stumbled upon my blog hehe (I would recommend on the any other comment section, read below).
E) Must comment at least once on any of my other posts (if you haven't already).
F) ENDS: JANUARY 15th, 2012.
Non-mandatory:
A) Blog about my giveaway! Must include a link back to my blog :) (+1)
B) Blog about my giveaway including BOTH pictures of giveaway! Must include a link back to my blog :) (+2)
C) Leave it in a side bar (+1)
Entry format
: Please copy and paste, say "N/A" if not applicable.
Name
:
Age
:
Blog Link
(if you have one, I will definitely check it out if you do):
Any other comments
:
Bahaha good luck everyone!!! :D